This meeting brought together a multi-disciplinary, international group of principal investigators who aim together to submit successful global health funding applications. This workshop was funded through University of Bristol Global Challenges Research Funding and Academy of Medical Sciences GCRF Networking Funding and hosted by the University of Kwa-Zulu Natal.
Out network members are currently representatives of four Sub-Saharan Countries; South Africa; The Gambia; Uganda and Zimbabwe. The workshop combined 5-days of scientific and strategic presentations to introduce the network members to each other, to identify key research areas and themes, describe our equipment and data resources for future research plans and to provide early- and mid- career researcher's opportunity to discuss future plans, personal funding awards and career progression. The final part of the workshop was to shape a grant application based on our discussions and previous work.
The workshop was extremely valuable, production and an excellent success, bringing together a network of people who until now have only met virtually.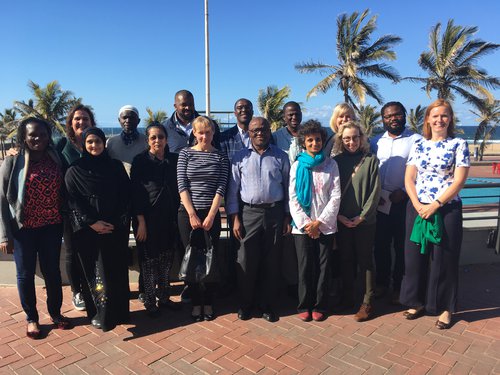 | | | |
| --- | --- | --- |
| Name | From | Area of Expertise |
| Dr Celia Gregson | Musculoskeletal Research Unit, Bristol Medical, School, University of Bristol, UK | Clinical Epidemiology of Musculoskeletal Disease |
| A/Prof Kate Ward | MRC Lifecourse Epidemiology Unit, University of Southampton, UK | Lifecourse Musculoskeletal Health |
| Dr Sarah Drew | Musculoskeletal Research Unit, Bristol Medical, School, University of Bristol, UK | Qualitative Research Methodology |
| Dr Nyasha Mafirakureva | Population Health Sciences, Bristol Medical School, University of Bristol, UK | Health economics |
| Prof Rashida Ferrand | London School of Hygiene and Tropical Medicine (LSHTM)/ Biomedical Research and Training Institute (BRTI), Zimbabwe | Epidemiology, Adolescent health & HIV |
| Dr Landing Jarjou | MRC The Gambia, Keneba | Nutrition |
| Dr Flavia Matovu Kiweewa | Makerere University-Johns Hopkins University Research Collaboration (MU-JHU), Kampala, Uganda | Musculoskeletal Health Research |
| Dr Erisa Mwaka | Makerere University, Kampala, Uganda | Orthopaedics |
| Prof Bilkish Cassim | University of Kwa-Zulu Natal, Durban, SA | Ageing |
| Dr Farhanah Paruk | University of Kwa-Zulu Natal, Durban, SA | Ageing & Rheumatology |
| A/Prof Lisa Micklesfield | MRC/Wits Developmental Pathways for Health Research Unit (DPHRU) at the University of the Witwatersrand, SA | Physical activity & mid-life cardio-metabolic |
| Prof Mkhululi Lukhele | University of Witwatersrand, Johannesburg, SA | Orthopaedic Surgery |
| Dr Kogie Naidoo | Centre of the AIDS Programme of Research in South Africa (CAPRISA), Durban, SA | HIV |
| Dr Adeil Chikobvu | University of Witwatersrand, Johannesburg, SA | Statistics and Health economics |
| Dr Tamsanqa Mazibuko | University of Witwatersrand, Johannesburg, SA | Orthopaedic Surgery |
| Dr Susan Brown | University of Kwa-Zulu Natal, Durban, SA | Endocrinology |
| Prof Daya Moodley | University of Kwa-Zulu Natal, Durban, SA | Women's Health |